Pathology || Signs and Symptoms || Diagnosis || Treatment || Overview ||
Related Articles || References and Resources || Leave a Comment || Search
This article will focus on type 1 Chiari malformations. The definition of this malformation has been debated, but most agree that the combination of herniated cerebellar tonsils (usually defined as greater than 5mm below the foramen magnum), with or without a syrinx, in the setting of referable symptoms is sufficient to make the diagnosis.
So why do the cerebellar tonsils herniate? Nobody knows for sure! We do know that type 1 malformations can be congenital or acquired. One theory is that tonsillar herniation is a result of an abnormally small posterior fossa (ie: the bones that compose the bottom of the skull). A small posterior fossa may be caused by underdevelopment of the occipital somites in-utero (the fetal precursors that form bone and connective tissues), premature fusion of the cranial bones (ie: craniosynostosis), or medical conditions that promote bony growth.
Other experts advocate that abnormal cerebrospinal fluid pressures between the brain and spine may cause the tonsils to herniate downwards (ie: repeated lumbar punctures).
Regardless of how you slice it, we can say with certainty that there are multiple etiologies for type 1 Chiari malformations.
Type 1 Chiari malformations are commonly associated with a finding known as a "syrinx". A syrinx is an abnormal fluid filled cavity that is seen in the cervical and/or thoracic spinal cord. It may represent an enlargement and extension of the central canal of the cord, in which case it is termed hydromyelia; it may also represent a complex glial lined cavity, which is referred to as syringomyelia. Regardless, syrinxes are found in 30% to 70% of type 1 Chiari malformations.
For unclear reasons, type 1 Chiari malformations with a syrinx are associated with scoliotic curves of the spine (especially left sided curves). It is believed that the syrinx puts pressure on the motor pathways of the spinal cord. This results in weakness of the paraspinal muscles causing the vertebral column to curve.
The most common presenting symptom of a type 1 Chiari malformation is pain. The pain is usually located at the back of the head and upper neck. Additionally, a cape-like sensation distribution loss, as well as problems with vision and/or hearing may also be present.
Myelopathic signs/symptoms may be present if there is a syrinx. Myelopathic patients present with a combination of gait dysfunction, clumsiness when using their hands, weakness, abnormally brisk reflexes, spasticity, and Lhermitte sign.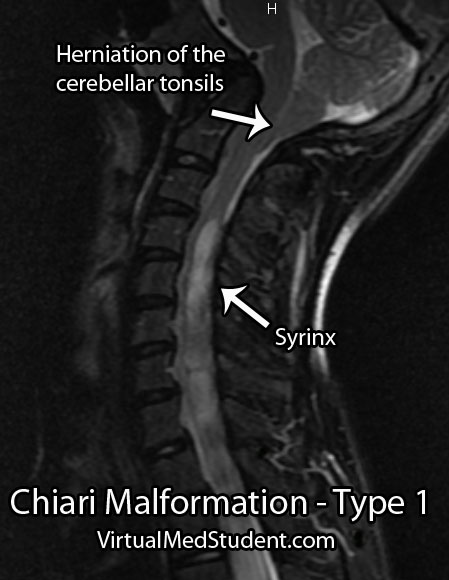 Diagnosis of a type 1 Chiari malformation is made when an MRI shows abnormal herniation of the cerebellar tonsils, with or without an associated syrinx, in the context of appropriate signs and/or symptoms.
The treatment of Chiari malformation is with surgical decompression. Most commonly this involves "shaving" off part of the occipital bone and removing the C1 lamina. This effectively decompresses the spinal cord and cerebellar tonsils.
If an associated syrinx is present, many neurosurgeons will open the dura (ie: the lining of the spinal cord) and perform a "duraplasty"; during the duraplasty a patch is sewn into place to give the spinal cord and cerebellar tonsils more room. Duraplasty generally improves the size and severity of the syrinx over time, but adds risk and complications to the procedure.
Some experts will surgically shrink the cerebellar tonsils after opening the dura. This is done with bipolar electrocautery and serves to further decompress the area.
Type 1 Chiari malformations are hindbrain abnormalities characterized by herniation of the cerebellar tonsils > 5mm below the foramen magnum. They are associated with cervicothoracic syrinxes as well as neuromuscular scoliosis. Symptoms can range from pain to neurological deficits. Treatment is with surgical decompression, although the exact type of decompression has been the subject of intense research.
-
Cervical myelopathy and stenosis
- Atlanto-occipital dislocation
(1) Colombo LF, Motta F.
Consensus conference on Chiari: a malformation or an anomaly? Scoliosis and others orthopaedic deformities related to Chiari 1 malformation
. Neurol Sci. 2011 Dec;32 Suppl 3:S341-3.
(2) Eule JM, Erickson MA, O'Brien MF, et al. Chiari I malformation associated with syringomyelia and scoliosis: a twenty-year review of surgical and nonsurgical treatment in a pediatric population. Spine (Phila Pa 1976). 2002 Jul 1;27(13):1451-5.
(3) Cardoso M, Keating RF. Neurosurgical management of spinal dysraphism and neurogenic scoliosis. Spine (Phila Pa 1976). 2009 Aug 1;34(17):1775-82.
(4) Milhorat TH, Nishikawa M, Kula RW, et al. Mechanisms of cerebellar tonsil herniation in patients with Chiari malformations as guide to clinical management. Acta Neurochir (Wien). 2010 Jul;152(7):1117-27.
(5) Batzdorf U, McArthur DL, Bentson JR. Surgical treatment of Chiari malformation with and without syringomyelia: experience with 177 adult patients. J Neurosurg. 2013 Feb;118(2):232-42.
(6) Klekamp J. Surgical treatment of Chiari I malformation--analysis of intraoperative findings, complications, and outcome for 371 foramen magnum decompressions. Neurosurgery. 2012 Aug;71(2):365-80; discussion 380.
(7) Yilmaz A, Kanat A, Musluman AM, et al. When is duraplasty required in the surgical treatment of Chiari malformation type I based on tonsillar descending grading scale? World Neurosurg. 2011 Feb;75(2):307-13.
(8) Durham SR, Fjeld-Olenec K. Comparison of posterior fossa decompression with and without duraplasty for the surgical treatment of Chiari malformation Type I in pediatric patients: a meta-analysis. J Neurosurg Pediatr. 2008 Jul;2(1):42-9.
Loading